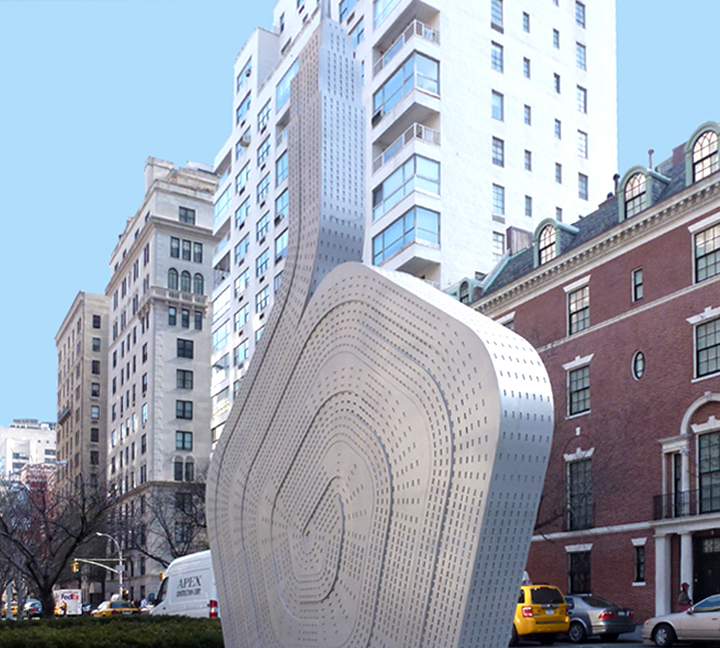 Park Avenue Mall Installation
Alexandre Arrechea's No Limit Emerges Along Park Avenue

Monumental sculptures of iconic New York City buildings are on display along the Park Avenue Mall in No Limits, Alexandre Arrechea's inaugural NYC public art exhibition. The exhibit runs from March 1 through June 9, 2013.
No Limits presents ten massive sculptures embodying New York City's most prominent buildings. Iconic landmarks represented include the Chrysler Building, Citicorp Center, Empire State Building, Flatiron Building, Helmsley Building, MetLife Building, Metropolitan Life Insurance Company Tower, Seagram Building, Sherry Netherland, and US Courthouse. The sculptures are featured on Park Avenue from 53rd Street to 67th Street and reach towering heights of up to 20 feet.

The art is meant to create a dialogue with the public that raises questions of control, power, surveillance and one's role within these categories. Arrechea said, "I believe the same way that a building is exposed to daily elements and changes – cold, heat, rain, fog – it is also exposed to constant changes in function – increases and decreases in market value, tenant use, and therefore purpose and social value. These persistent modifications are something I want to capture and embody in my work, creating a new model in constant negotiation with its surroundings."